This year I created
Kidblog
accounts for all of the students in grades 2 through 8. I decided to have them practice writing by writing for an audience. This makes them a little more accountable, and it's more fun. Most of the students are having a really great time writing posts. At first, I gave them a topic for the week to get them started. We talked about the types of things they might consider writing about. I turned my whiteboard into a make-shift bulletin board where we put up words for blogging inspiration. I've just left them up there all year for a reference since I don't use the whiteboard to write on anyway. Eventually the students started gaining more confidence and began writing about things that interested them. I still have a topic each week for those reluctant writers.
After the students tackled the process of writing quality blog posts, we started discussing how to write comments on someone else's blog. I showed my students this video that Linda Yollis and her students put together to help explain what makes a good comment:
To give the students a chance to write for an audience beyond the walls of our little school, I signed the middle school students up to be part of a wonderful blogging project called
Quadblogging
. This was the creation of David Mitchell, a Deputy Headteacher of a primary school in the UK. How does Quadblogging work? Four schools are assigned to work together. One of the schools' blogs is the focus the first week of the 4-week cycle. The other three schools read and comment on that blog for the week. Then the three other schools have their turn in the spotlight for a week. We were assigned to work with two UK schools and a school in New Zealand. The students were so excited to participate in this project! We were even able to Skype with two of the schools which just added another layer to the learning.
Another great blogging opportunity is coming up on February 29th...again the creative genius of David Mitchell with the help of Peter Ford and John Sutton. To recognize this special Leap Day that only comes around once every four years, they've created a site where people will be able to add a blog post of their own. It will be open to anyone, not just educators and students. For more information about this project, click the link below.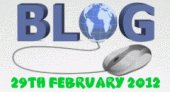 One of the bonuses about using a blogging site like Kidblog is that it acts as a portfolio of sorts as well. All of the students' posts are archived on their blog from the beginning of the year through the present. It is a great way to see how much the students' writing has improved over time. Writing is such an important life skill. Blogging is a great way to motivate students to practice their writing and to improve their writing skills because they know there is an audience reading what they have posted. Students are also motivated to write more by the comments that are left on their blog.
If you haven't started blogging with your students, you really should give it a try!